QLEAR's platform provides an easy way to access all your building's metrics and intelligence. As an integrated indoor environmental quality (IEQ) management system, data is collected, organized, and analyzed in real-time from air, electricity and other readily available monitors or sensors. By adding intelligence and analytics, QLEAR allows you to better understand your indoor data, so you can make informed decisions to create healthy, sustainable spaces with impact ranging from higher staff retention to improved customer acquisition.
Link to Website
Supported RESET Standards
QLEAR currently supports the following RESET Standards:
RESET Air

RESET Water
Features
- Automated Reporting - Automated Graph - Kiosk Dashboard - Workspace Management - RESET Virus and Qlear Filtration Index - Hardware agnostic - HTTP API
Screenshots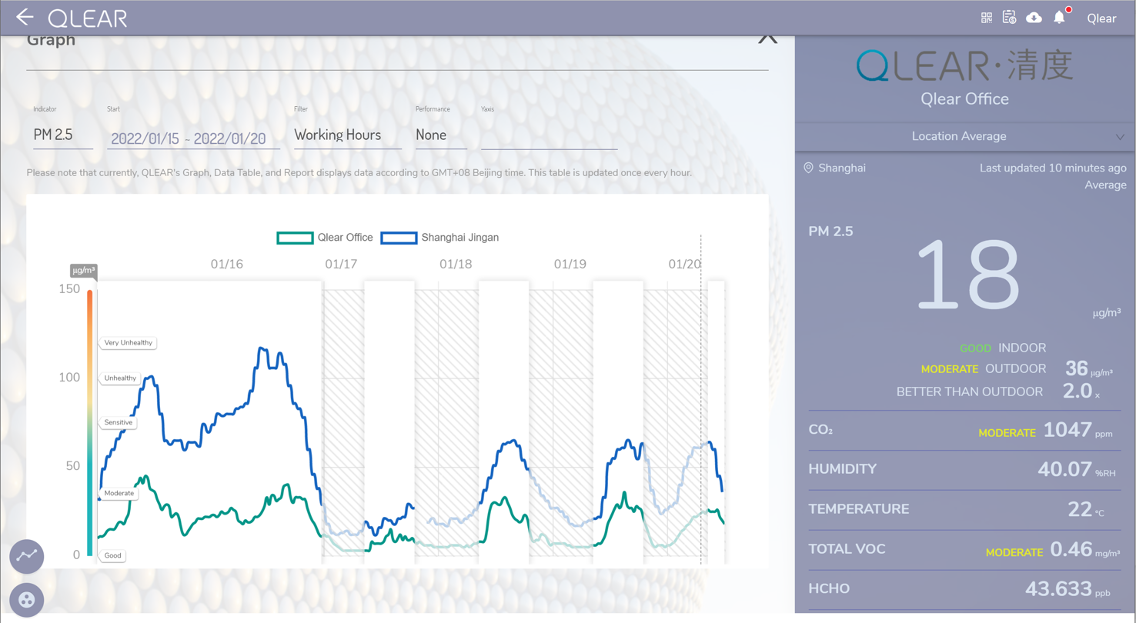 Kiosk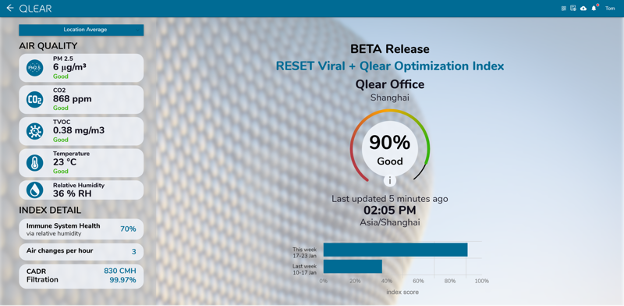 Index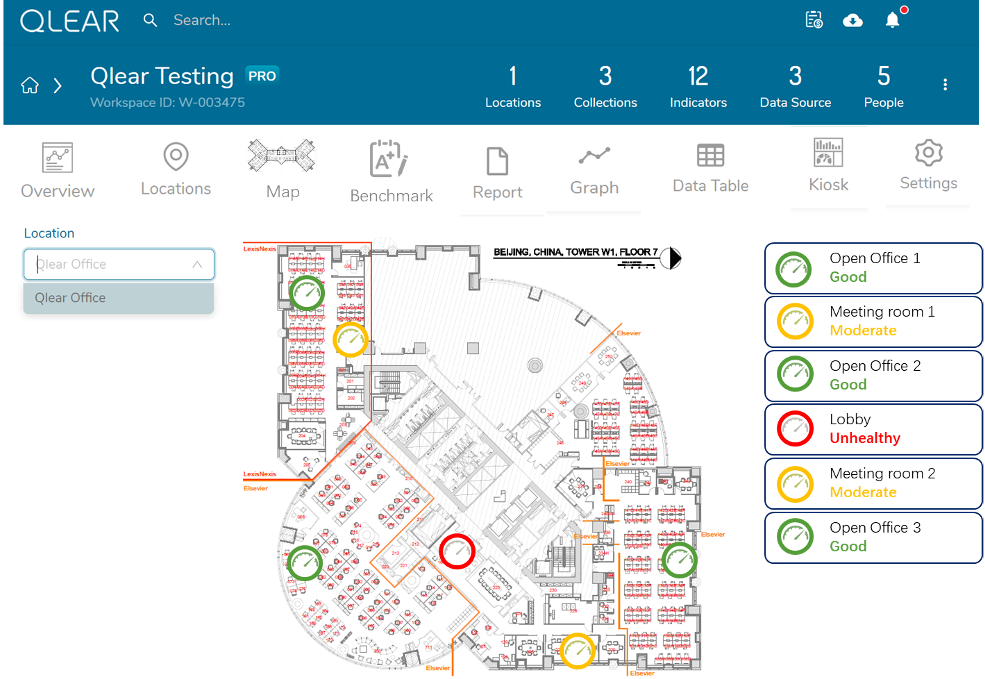 Monitor Map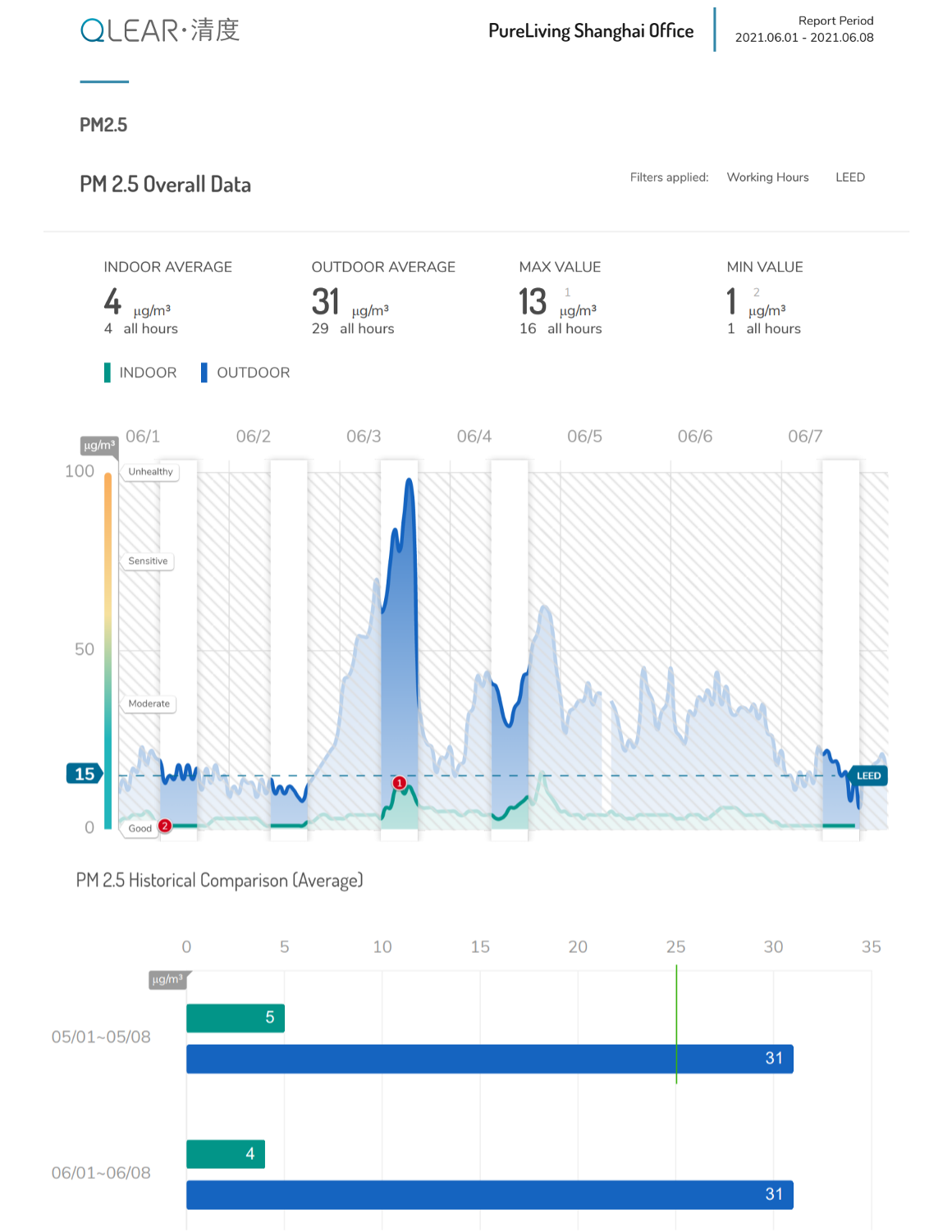 Report
Active Markets
QLEAR is currently available in the following markets:
MSRP
Qlear offers flexible pricing charged per indicator based on client needs
Supported RESET Air Accredited Monitors
QLEAR currently supports the following RESET Air Accredited Monitors:
Company Information
QLEAR was born in response to the Beijing and Shanghai Airpocalypses of 2012 and 2013. Specifically focused on IAQ management and communication for commercial real-estate, QLEAR was developed to meet the requirements of the world's leading standards organizations and Fortune 500s. In a world of rapidly evolving monitoring hardware, QLEAR provides flexibility by being hardware agnostic. This enables users to choose from the world's more advanced hardware, irrespective of brand, while never compromising data continuity. With a passion for data quality and actionability, QLEAR also helped inform the development of the RESET Standard and was its first accredited cloud provider. With RESET serving as the world's reference for air quality reporting, QLEAR is the ideal partner for any project prioritizing data quality. As the leading indoor air quality cloudware for commercial real-estate, whether you're seeking to professionally monitor a hotel room, an office tower with a shopping mall podium or an entire portfolio, QLEAR has you covered.
Contact Information
e-mail: info@qlear.io , support@qlear.io
RESET Projects
The following RESET Projects uses QLEAR as their data provider:
| RP Number | Project Name | Location |
| --- | --- | --- |
| RP-00016 | PureLiving Shanghai Office | Shanghai, China |
| RP-00037 | Cordis, Shanghai, Hongqiao | Shanghai, China |
| RP-00038 | Tishman Speyers The Springs (CS v1.0) | Shanghai, China |
| RP-00041 | Canadian Embassy in China | Beijing, China |
| RP-00047 | M Moser Office - Hong Kong | Hong Kong, China |
| RP-00048 | Novalis Office Shanghai | Shanghai, China |
| RP-00051 | On Air Cafe - Huaihai Rd | Shanghai, China |
| RP-00056 | DLR Group Office Charlotte | Charlotte, United States |
| RP-00057 | DLR Kwan Henmi Office San Francisco | San Francisco, United States |
| RP-00058 | DLR Group Office Cleveland | Cleveland OH, United States |
| RP-00059 | DLR Group Office Colorado Springs | Colorado Springs CO, United States |
| RP-00061 | DLR Group Office Des Moines | Des Moines, United States |
| RP-00062 | DLR Group Office Dubai | Dubai, United Arab Emirates |
| RP-00063 | DLR Group Office Houston | Houston, United States |
| RP-00064 | DLR Group Office Overland Park | Overland Park, United States |
| RP-00065 | DLR Group Office Lincoln | Lincoln, United States |
| RP-00066 | DLR Group Office Los Angeles | Los Angeles CA, United States |
| RP-00068 | DLR Group Office New York | New York NY, United States |
| RP-00069 | DLR Group Office Omaha | Omaha, United States |
| RP-00070 | DLR Group Office Orlando | Orlando, United States |
| RP-00071 | DLR Group Office Phoenix | Phoenix AZ, United States |
| RP-00072 | DLR Group Office Portland | Portland, United States |
| RP-00074 | DLR Group Office Seattle | Seattle WA, United States |
| RP-00075 | DLR Group Office Washington DC | Washington DC, United States |
| RP-00077 | Merchandise Mart Food Hall | Chicago IL, United States |
| RP-00078 | Merchandise Mart Marshall's Landing | Chicago, United States |
| RP-00079 | Merchandise Mart Office of the Building | Chicago, United States |
| RP-00080 | M Moser London | London, United Kingdom |
| RP-00085 | DLR Group Office Riverside | Riverside CA, United States |
| RP-00086 | DLR Group Office Tucson | Tucson, United States |
| RP-00087 | Lemajor Premium Experience Centre | Shenzhen, China |
| RP-00088 | Beijing Schwarzman College | Beijing, China |
| RP-00089 | 天津大成广场办公楼A座 | Tianjin, China |
| RP-00092 | Central Plaza | Shanghai, China |
| RP-00094 | Tenova (Shenzhen) Office | Shenzhen, China |
| RP-00095 | Cook Medical | Hong Kong, China |
| RP-00096 | Starbucks Shanghai Roastery | Shanghai, China |
| RP-00098 | M Moser New York | New York NY, United States |
| RP-00103 | One Museum Place Hines Office | Shanghai, China |
| RP-00104 | One Museum Place Office Tower | Shanghai, China |
| RP-00106 | Swire & HKRI Taikoo Hui JV Office 6F | Shanghai, China |
| RP-00109 | East Liberty Presbyterian Church | Pittsburgh, United States |
| RP-00119 | Offices at Kerry Centre | Hangzhou, China |
| RP-00120 | Offices at Kerry Parkside | Shanghai, China |
| RP-00121 | Jing An Kerry Centre | Shanghai, China |
| RP-00122 | Beijing Kerry Centre | Beijing, China |
| RP-00125 | Epsten Group, Inc. | Atlanta, United States |
| RP-00126 | Kerry Everbright City Phase III - Enterprise Centre | Shanghai, China |
| RP-00127 | Perkins+Will Shanghai Office | Shanghai, China |
| RP-00128 | M Moser Kuala Lumpur | Kuala Lumpur, Malaysia |
| RP-00129 | Zendesk | Singapore, Singapore |
| RP-00131 | Vertex | Shanghai, China |
| RP-00132 | Shenzhen Kerry Plaza | Shenzhen, China |
| RP-00133 | Crystal Plaza T5 | Shanghai, China |
| RP-00134 | Embassy of Canada to Korea (CI) | Seoul, Korea, Republic of |
| RP-00136 | Natural Resources Defense Council, Inc. Beijing Representative Office | Beijing, China |
| RP-00140 | Pernod Ricard | Hong Kong, China |
| RP-00142 | ebm-papst Xi'an Factory Administration Building (CS) | Xi'an, China |
| RP-00143 | ebm-papst Xi'an Factory Workshop | Xi'an, China |
| RP-00146 | Embassy of Canada to Seoul, Korea (CS) | Seoul, Korea, Republic of |
| RP-00147 | JLL HK Office – OTP | Hong Kong, China |
| RP-00148 | JLL Singapore PLQ Office | Singapore, Singapore |
| RP-00150 | Crystal Plaza T1 | Shanghai, China |
| RP-00151 | Crystal Plaza T2 | Shanghai, China |
| RP-00152 | Crystal Plaza T6 | Shanghai, China |
| RP-00153 | Crystal Plaza T7 | Shanghai, China |
| RP-00154 | Gartner Consulting Beijing Co., Ltd. Shanghai Branch | Shanghai, China |
| RP-00156 | The Financial Times (Hong Kong) Limited | Hong Kong, China |
| RP-00158 | Cook Medical (Thailand) Co., Ltd. | Bangkok, Thailand |
| RP-00159 | BIRD | Hong Kong, China |
| RP-00160 | Kitchen House Parkhill | Calgary, Canada |
| RP-00162 | TaunusTurm | Frankfurt am Main, Germany |
| RP-00163 | SBUX Kunshan-Office | Kunshan, China |
| RP-00166 | Living Lab for Healthy Building and Workplace Productivity, China Academy of Building Research | Beijing, China |
| RP-00167 | Morgan Stanley Beijing COFCO | Beijing, China |
| RP-00175 | UFC GYM | Shanghai, China |
| RP-00176 | ebm-papst UK office | Chelmsford, United Kingdom |
| RP-00181 | Gartner Center of Excellence, Gurgaon | Gurgaon, India |
| RP-00187 | Air Quality Monitoring - Lingotto Hotels DT | Turin, Italy |
| RP-00200 | Dyson St James Power Station | Singapore, Singapore |
| RP-00212 | The Reach | Maidenhead , United Kingdom |
| RP-00216 | Goodman Texaco Centre | New Territories, Hong Kong |
| RP-00217 | Goodman Global Gateway | New Territories, Hong Kong |
| RP-00218 | Goodman Dynamic Centre | New Territories, Hong Kong |
| RP-00219 | Goodman Interlink | New Territories, Hong Kong |
| RP-00220 | Goodman Western Plaza | New Territories, Hong Kong |
| RP-00221 | Goodman Shatin Logistics Centre | New Territories, Hong Kong |
| RP-00222 | Goodman Kwai Chung Logistics Centre | New Territories, Hong Kong |
| RP-00223 | Goodman Tuen Mun Logistics Centre | New Territories, Hong Kong |
| RP-00238 | RCPA Quality Assurance Programs Pty Ltd | Sydney, Australia |
| RP-00264 | Air Quality Monitoring - Lingotto Hotels NH | Torino, Italy |
| RP-00286 | Dragoncor Shanghai Office | Shanghai, China |
Accreditation Date
2017-01-01
How to Access Connection ID