RESET® Air Standard referenced in the new book "The Power of Existing Buildings"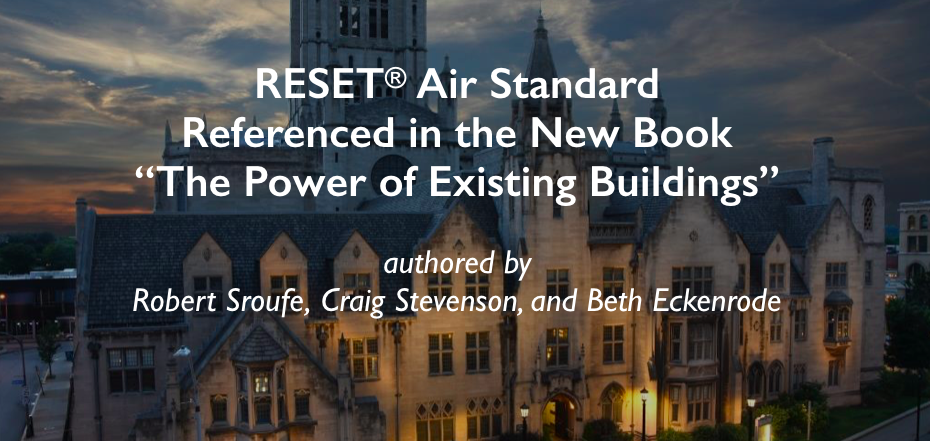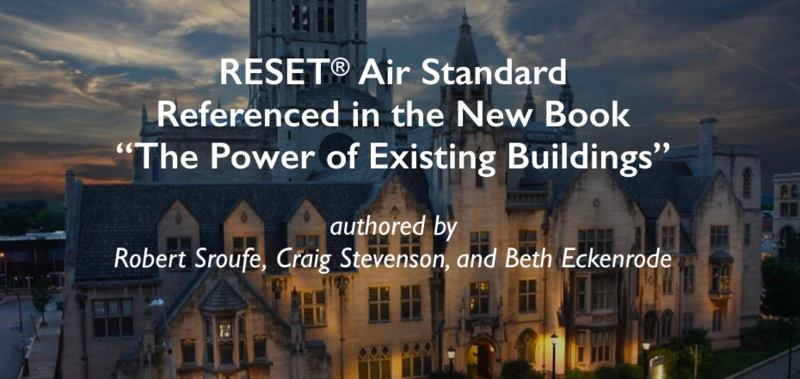 Endorsed by RESET's own Director of Standards Development, Anjanette Green, The Power of Existing Buildings is proof positive of how we can be assured a future of energy efficient buildings without compromise. This book, and the case studies it so eloquently and thoroughly presents to the reader, demonstrate that we can indeed invest in our vast supply of existing buildings to not only reduce energy consumption and carbon footprint but offer amazing indoor environments, complete with superior indoor air quality.

The RESET team is grateful for Robert Sroufe, of Duquesne University, Pittsburgh, and Craig Stevenson and Beth Eckenrode of AUROS Group, for their combined efforts and tireless work to dig deep into the details of "results-driven building intelligence". Auros Group's alacrity for adopting the RESET Air Standards in uncharted territory, has resulted in the implementation of the Standard and certification of some of the first typologies in the world. To call the project team, the architect, engineers, contractors and client who contributed to this project anything less than stalwart innovators would be a gross understatement.
"This step-by-step guide will help readers to: understand where to start a project; develop financial models and realize cost savings; assemble an expert team; and align goals with numerous sustainability programs."
The RESET Air Standards, being so named as a tool used to help ensure success of the case studies, is not only an honor, but a testament to the utility of the Standard, and what's more, it is our hope that this book inspires further inspiration to project teams across the globe.
What this book ultimately points to is the ever-expanding breadth of information and opportunities we have at our fingertips. The time to implement these strategies is now and our effectiveness of bringing a livable future to all will rely on using lessons learned and opening up to cross-disciplinary collaborations.
"The Power of Existing Buildings will challenge you to rethink spaces where people work and play, while determining how existing buildings can save the world."
"All those who envisage a sustainable future for our common cultural heritage should read this book carefully. Only by spreading the knowledge and the uptake of sustainable solutions as quickly as possible can we make the changes and progress that is absolutely necessary if we want to preserve the blessing of modern prosperity for future generations."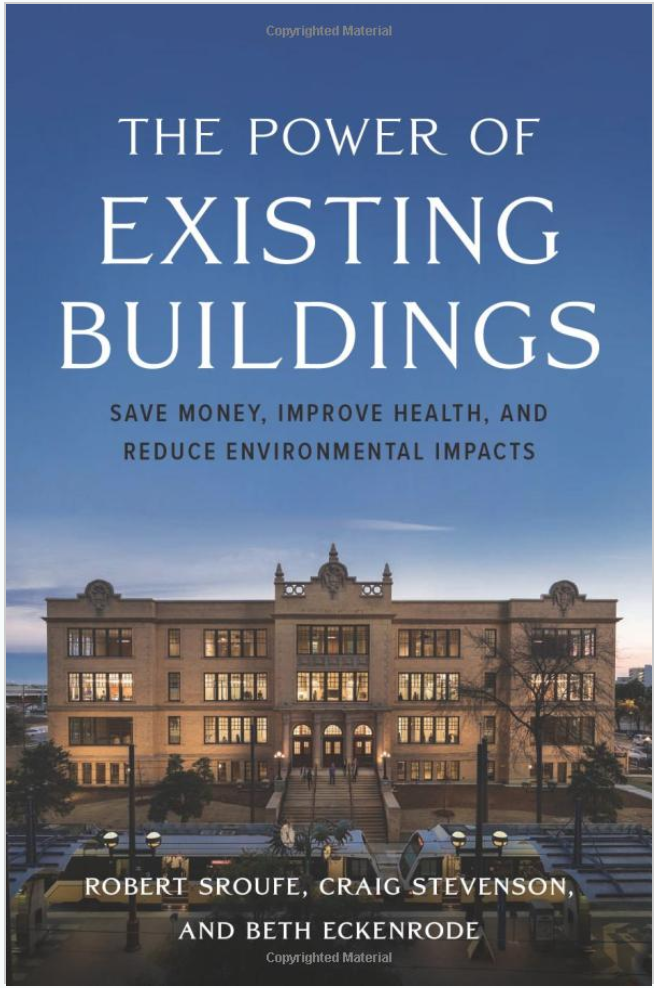 To get your own copy of this inspired book: https://islandpress.org/books/power-existing-buildings
Related Read:
https://www.aurosgroup.com/post/the-power-of-existing-buildings-forward-by-dr-wolfgang-feist
https://passivehouseaccelerator.com/articles/the-power-of-existing-buildings
Celebrating the World's First RESET Air Certified Cathedral: https://reset.build/blogs/88
About Auros Group
AUROS GROUP, THE OWNER'S PERFORMANCE ADVOCATE FOR WHOLE BUILDING PERFORMANCE™
At AUROS Group, we believe that owners and project teams shouldn't have to make sustainable building decisions in the dark.
With combined expertise in institutional strategic planning, building science, and construction, we work passionately every day to transform how building decisions get made.
We bring data-driven decision making and evidence-based performance evaluation to sustainability, so you can see into your building's future.
https://www.aurosgroup.com/
About RESET® Air
RESET Air is the world's first sensor-based, performance-driven building certification program where indoor air quality is monitored and measured in real-time. Buildings and/or spaces are required to consistently maintain healthy indoor air quality at all times, as defined by the Standard. RESET Air is comprised of comprehensive standards for hardware or sensor performance, installation, maintenance and data communication.
RESET is developed and managed by GIGA, an independent third-party organization that combines building standards development with cloud software to promote the affordability and scale of healthy buildings.
www.reset.build/