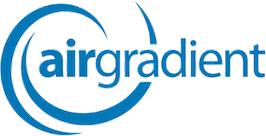 AirGradient's powerful analytics engine gives you the insight you need to create a healthier and more productive environment. Seven key factors are monitored that influence your health and safety: Particles (PM2.5), Carbon Dioxide (CO2), Chemicals (TVOC), Humidity and Temperature, Light, and Noise. Research shows that poor indoor air can cost companies thousands of dollars each year due to productivity loss. In educational institutions, healthier air can help with increased test scores and student attendance.
Link to Website
Supported RESET Standards
AirGradient currently supports the following RESET Standards:
RESET Air
Features
- Designed for high performance monitoring of hundreds of sensors in large installations, providing an immediate overview of the air quality in all rooms or offices - Powerful user-defined alerts, notifications, and reports - Comparison with outside air quality - Integrate your organisations air quality policy - Custom design of displays and website widgets for public air quality information - Special analytics dashboard and data export - Integrate third-party monitors
Screenshots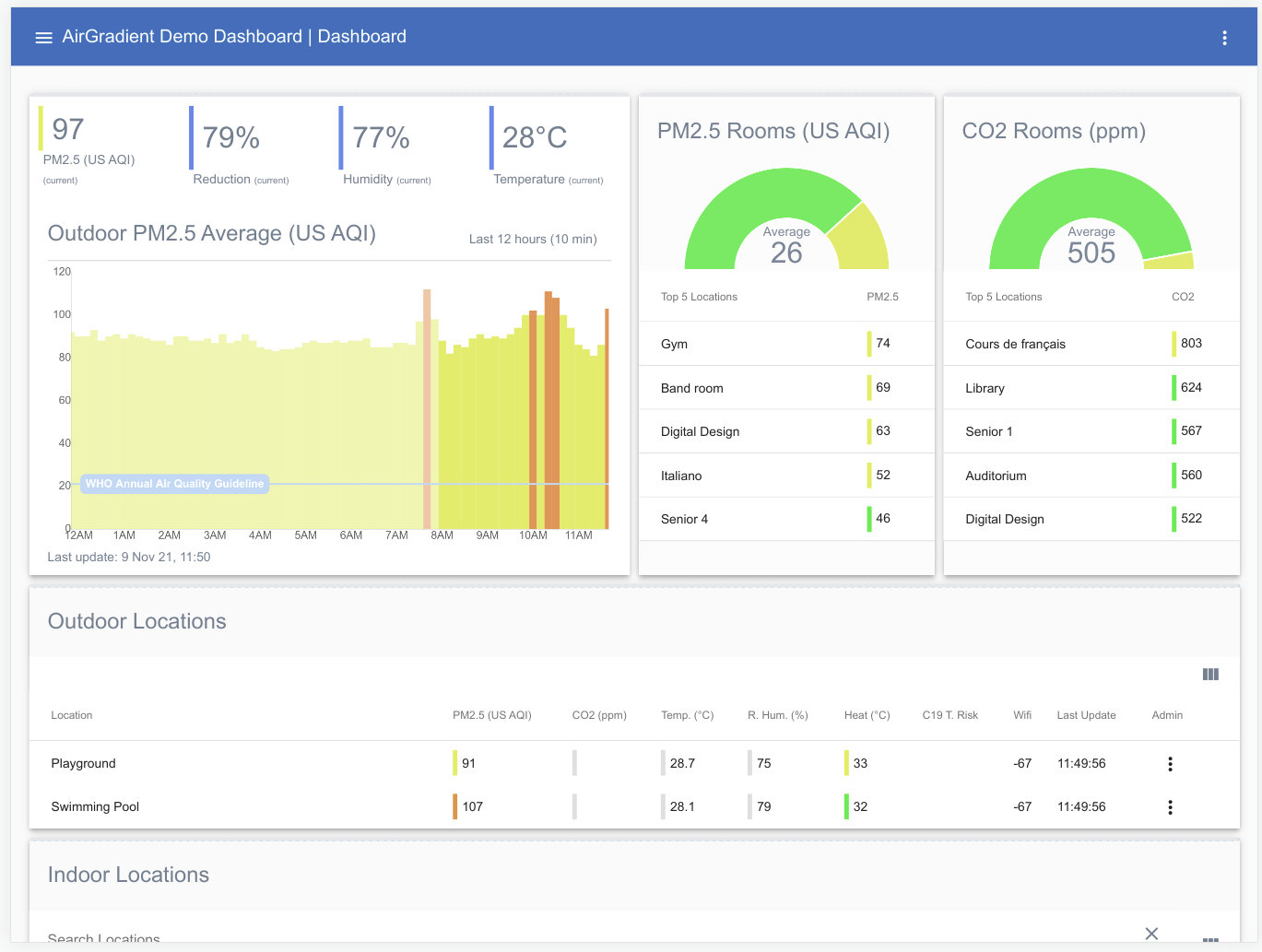 Dashboard
Historical Chart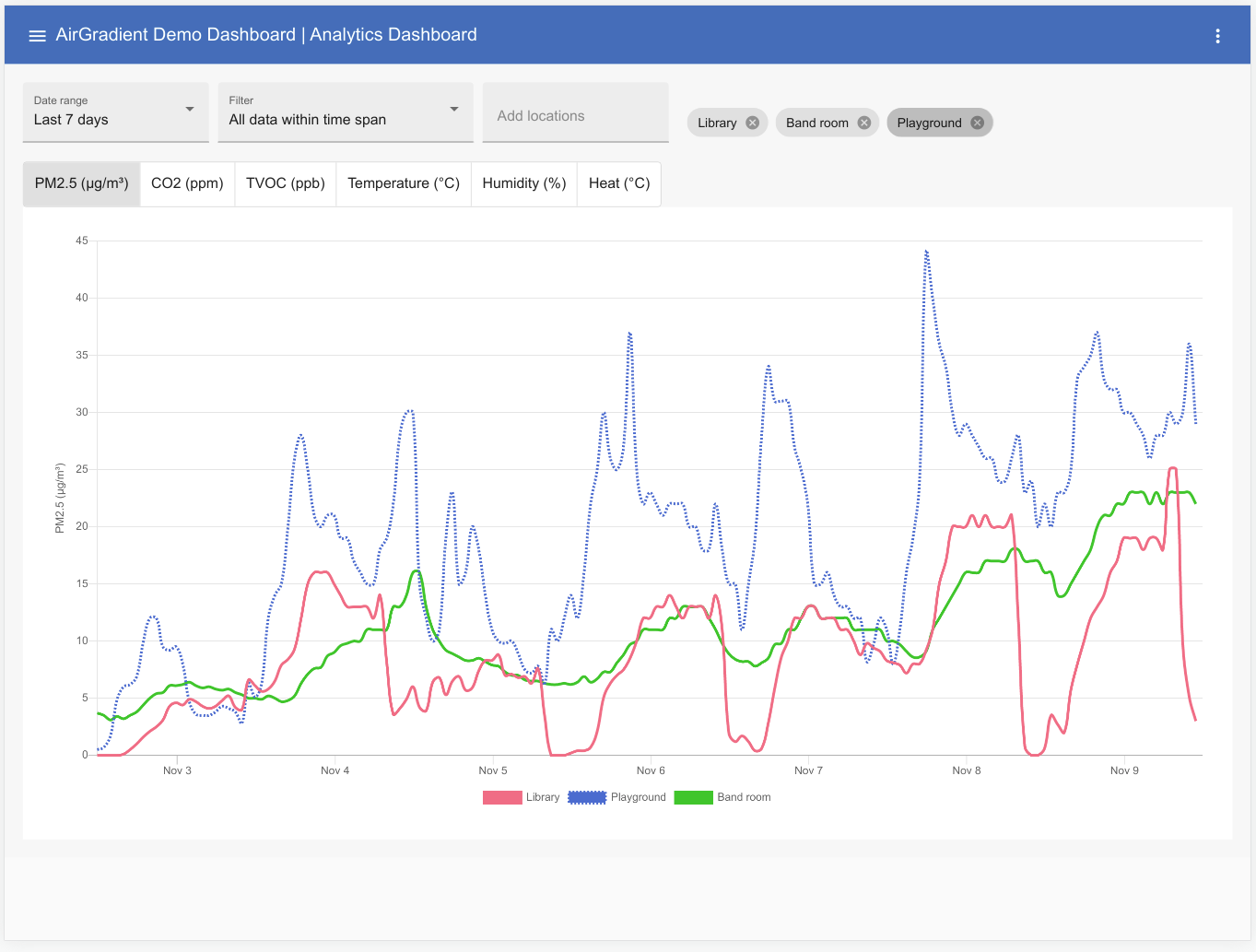 Analytics
Supported RESET Air Accredited Monitors
AirGradient currently supports the following RESET Air Accredited Monitors:
Company Information
AirGradient helps organisations to substantially improve their air quality by providing a sensor network in all of the organisation's rooms and locations. Our enterprise-grade sensors send data to a cloud server for real-time monitoring and analysis of air quality. The powerful, robust and intelligent platform enables organisations to have full transparency about the air quality inside their rooms as well as in outside locations and allows them to take effective actions. AirGradient's unique solution is especially well suited for large organisations as it can process and visualise large amounts of data in an easy to understand way. One of our target customers are local and international schools as some of them are in highly polluted areas and schools have a strong interest in keeping their students healthy and safe. Commitment to Quality: We design for affordability without compromises focusing on high-accuracy and reliability using best-in-class components Commitment to Sustainability: We focus on designing products for maximum lifetime and easy repairability. We commit to offer spare parts and repair service as long as we can get the supplies. We design our products to have a low environmental footprint and we avoid mixed materials as much as possible. If a product reaches its end of life, it can be easily disassembled and recycled or returned to us. We use easily recyclable paper based packaging material as much as possible. We request our suppliers to use environmentally-friendly packaging material. Commitment to Health: We base our air quality recommendations on evidence based air quality science such as the World Health Organisation's Air Quality Guidelines. We do not promote or integrate standards that do not have clear scientific evidence of being beneficial to occupants. Commitment to Education: We actively support air quality awareness through our AirGradient for Education program with high quality open hardware and open software projects like our popular DIY air quality monitor. We provide educational institutions with air quality workshops aiming to increase knowledge and awareness about air quality, protection from pollution and resolution of underlying issues.
Contact Information
Airgradient Co. Ltd. 181 M.10 Baan Nam Long Soi 2 Chiang Mai 50180, Thailand support@airgradient.com www.airgradient.com
Accreditation Date
2021-06-01
How to Access Connection ID