AUROS Group's AUROS360 data management platform provides the data management foundation to liberate building performance data. By properly creating the data management approach for RESET Air, building owners using AUROS360 have the potential to scale the solution across all digital data points in a building or group of buildings. AUROS360 provides secure access to your commercial building's data in real-time and with context. AUROS360 is a single-pane of glass solution for indoor air quality and the entire building operational network. AUROS360 also offers value-added capabilities to integrate whole-building simulations with actual trends to drive optimum performance levels, answering the age old question, "Did I get what I paid for?" AUROS360 not only measures what is; we use digital replicas to determine what's possible in terms of whole building performance and occupant experience. If you are looking to liberate your building performance data to make better decisions, AUROS360 together with RESET Air certification is the perfect no-regrets move.
Link to Website
Supported RESET Standards
AUROS Group currently supports the following RESET Standards:
RESET Air
Features
- Data is liberated to provide owners control and transparency over all forms of building performance data. - Open data platform possesses capabilities to integrate physics-based building performance model with trended performance data. - Cloud or on premises-based platform for all operational technology data, including single pane of glass and all forms of energy, IAQ, IEQ, occupancy, etc data. - Data platform and historian that integrates operating technologies and maintains data independent of IoT devices enabling easy insertion or removal of technology devices.
Screenshots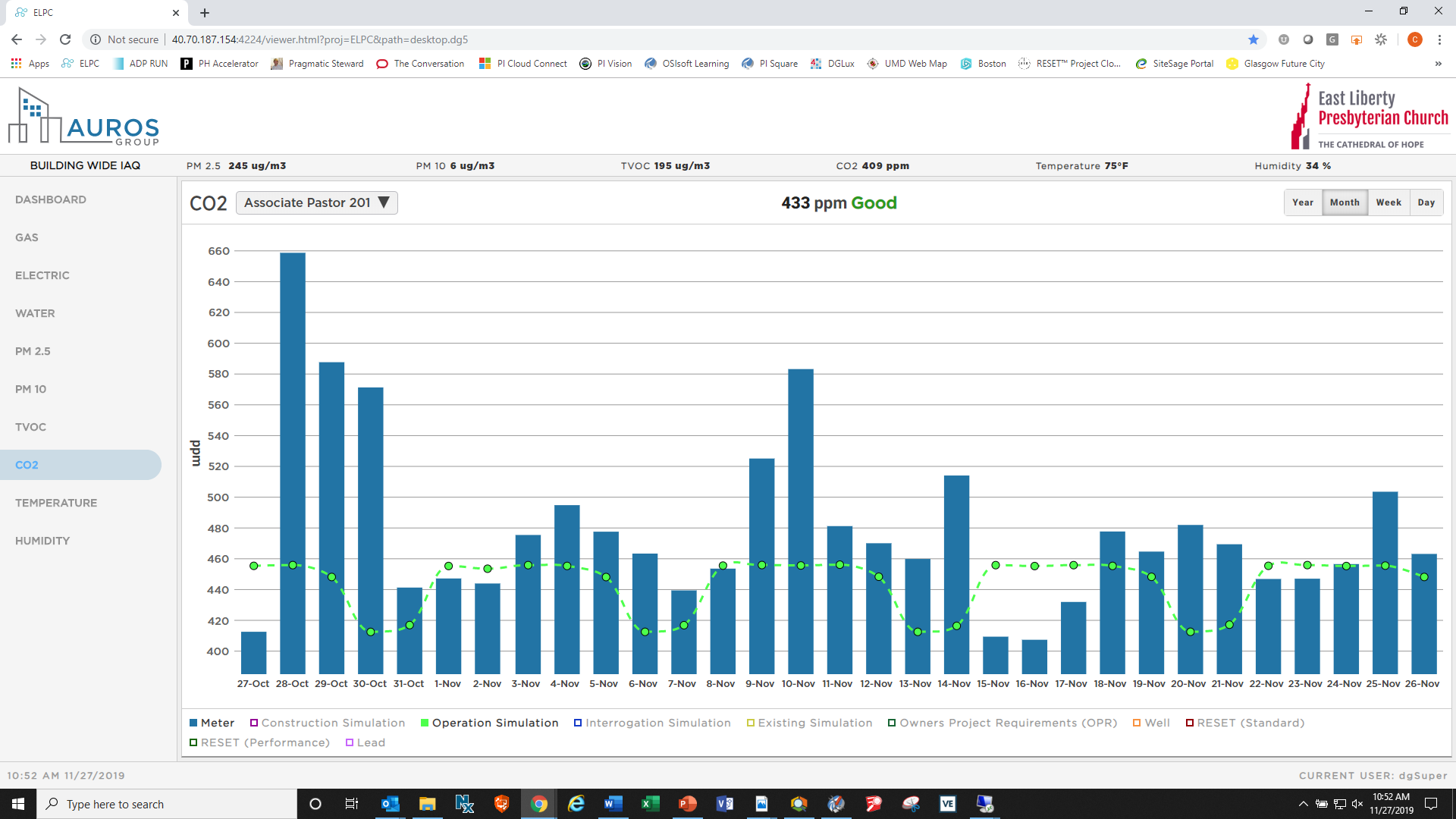 Depicts actual CO2 performance (blue bars) compared to simulation (green line) from a physics-based, whole building performance model.  This indicates how a building is performing against how it was designed and constructed to perform.

Depicts 12-month site, source, cost and carbon for meters, invoices, and simulated data from a physics-based, whole building performance model.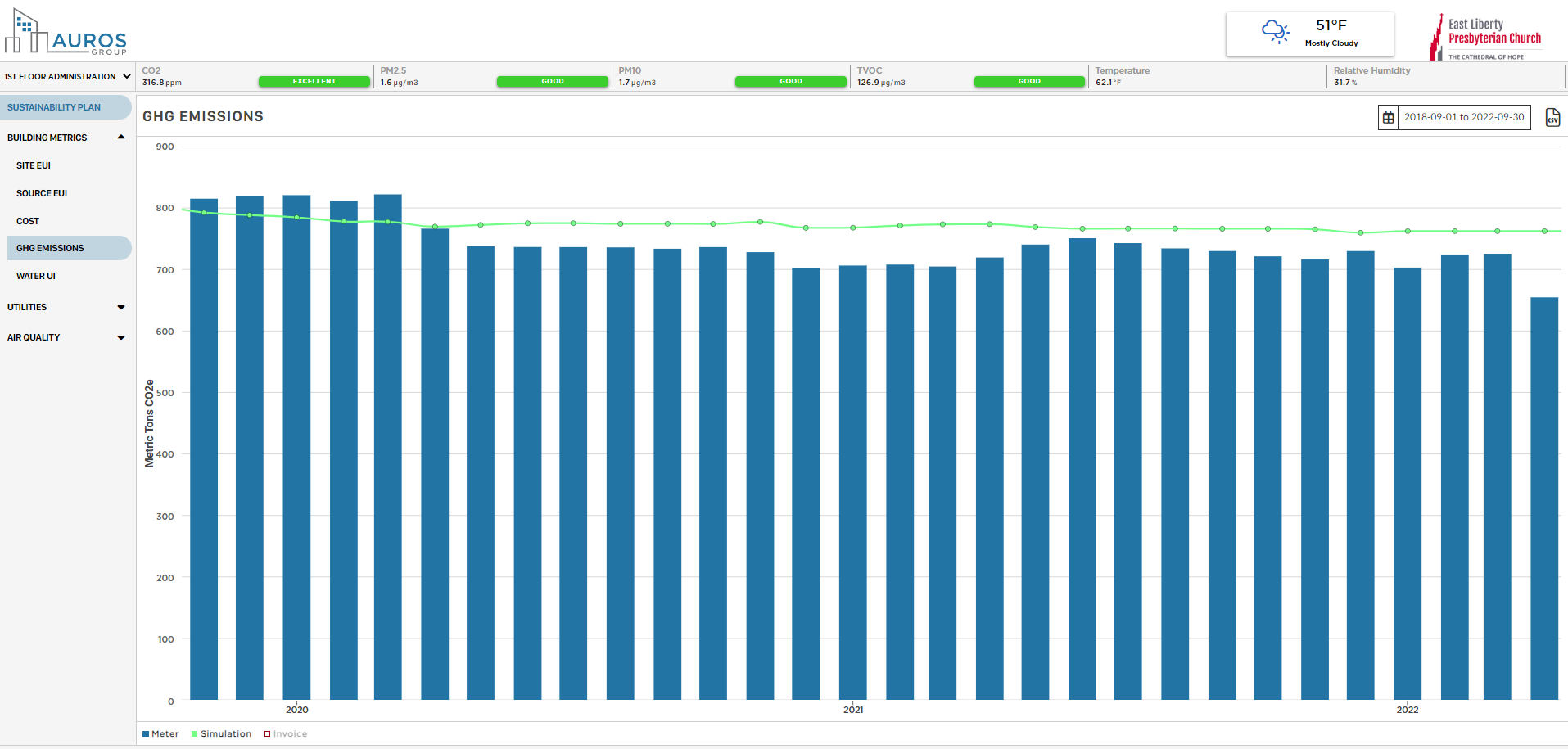 Depicts actual Green House Gas (GHG) emissions compared to simulated, expected results.  Using the context of simulation answers the question, "Did I get what I paid for?"
Active Markets
AUROS Group is currently available in the following markets:
Canada
Germany
New Zealand
South Africa
South Korea
Spain
United States
MSRP
We are not a "software as a service" provider.  We liberate data by integrating operational technologies with the purpose of handing the capabilities, control, and transparency of building performance data to building owners and developers.  Our pricing is transactional based on the scope of data.  For simple IAQ data, our pricing is based on the time it takes to pull data into AUROS360 and provide open access to our client.  At that point, our engagement concludes.   The only costs beyond our development costs would be license-related in the event the client chooses to utilize license-based technology.
Supported RESET Air Accredited Monitors
AUROS Group currently supports the following RESET Air Accredited Monitors:
Company Information
AUROS Group, based in Pittsburgh, Pennsylvania, and is considered expert in both building science and data science.  We are unique in that our approach to data sets the stage to cost effectively reach zero carbon and healthy indoor air quality.  On a new building, our approach begins by laying out the strategy for owners to control their building performance data and know on day one of operations, "did I get what I paid for?" With an existing building, our approach to data baselines performance, brings up an integrated digital twin and simulates performance possibilities before investing in additional design or construction.  RESET Air is foundational in determining how a company will handle its data.  Our approach reduces investment risk and addresses the typical redundancies of operational technologies (OTs) and IoTs.  AUROS Group was awarded two patents in 2021 which detail how we integrate simulated data and trended data. AUROS Group also published a book, The Power of Existing Buildings—Save Money, Improve Health and Reduce Environmental Impacts. To learn more about how to democratize data and use RESET Air to properly manage your building performance data, download our eBook "Using Data Science to Connect Design to Operations": https://www.aurosgroup.com/post/auros-group-ebook-2-using-data-science-to-connect-design-to-operations/ (please copy and paste this link to your browser).
Contact Information
AUROS Group 243 East Main Street, Carnegie PA 15106, United States Beth A. Eckenrode, Co-founder Office: 412-506-6777 | Mobile: 412-860-0416 Beth.Eckenrode@aurosgroup.com www.aurosgroup.com
RESET Projects
The following RESET Projects uses AUROS Group as their data provider:
Accreditation Date
2019-07-01