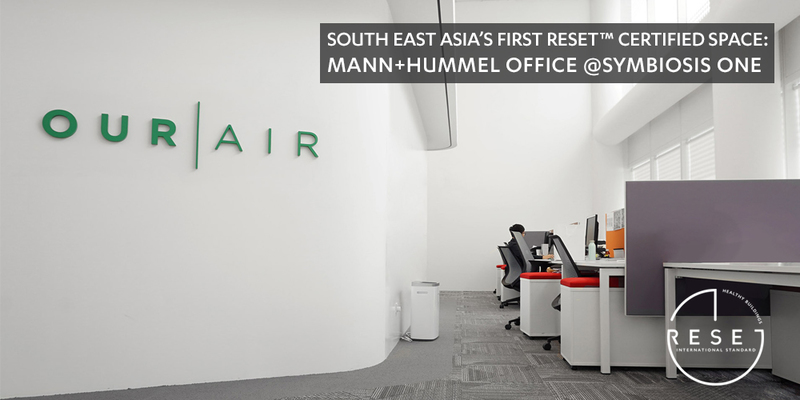 MANN+HUMMEL's Global Internet of Things Lab and Intelligent Air Solutions office, located at Symbiosis, One North, Singapore, becomes the first RESET Air Certified Commercial Interiors project in Southeast Asia, following the RESET accreditation of OurAir monitors and cloud platform.

The 271 sqm office houses 25 staff members, and is a division of the MANN+HUMMEL group. The office consistently achieved the RESET high performance target, the highest level within the standard, maintaining a consistent PM2.5 level of less than 12ug/m3, as required by the RESET standard.

Once a building has registered to be certified, there is an initial 3-month data audit before RESET grants the certification. In order to maintain the certification and the desired level of indoor air quality ("IAQ"), performance data is gathered and assessed on a daily basis. Data lapses and poor air quality exceeding 10% (calculated monthly) for three consecutive months results in a failure to meet the standard.

Southeast Asia's air quality is a cause for concern for many, with primary sources of air pollution being vehicles and industry, and from time to time, haze from land and forest fires from neighboring countries. Although Singapore is still the most liveable city for expats, the air quality is said to be continuously worsening, as per a 2017 article from TODAY. The World Health Organization (WHO) recommends daily average PM2.5 to be below 12ug/m3 but PM2.5 level in the city often exceeds this number multiple times. The government of Singapore has also set an ambitious 2020 target to meet WHO standards. In fact, as per an article from earlier this year, Singapore has failed to meet its air quality target for the last 2 years.

The quality of the air outdoors will have a bearing on indoor air quality as well. As people spend more than 90% of their time indoors, and more than a third of that spent in the office space, it is paramount for organisations to start thinking about the quality of the air that they provide indoors, and providing transparency and accountability to residents and occupiers alike. This is in line with the BCA-HPB Green Mark for Healthier Workplaces, unveiled in September this year in Singapore. The RESET certification is, thus, a much needed and relevant framework for monitoring air quality in the city – both inside buildings as well as outside.

Most business owners and buildings focusses on designing greener or healthier buildings, as opposed to operating them. Based on recent trends in the industry, this is where the biggest shift will be, towards monitoring and improving building operations and air quality performance. By doing so, building owners and facilities managers can start to impact not only building efficiency, but more importantly occupant productivity, on a daily basis.

Raefer Wallis, Founder and CEO, RESET, said, "Achieving RESET high performance targets on an ongoing basis is challenging and highly commendable. It requires the ability to keep one's finger on the pulse of buildings, most typically via system automation and cloud-based management, which is precisely how MANN+HUMMEL is achieving consistent performance within their office."

Jason Tang, Vice President, Intelligent Air Solutions, MANN+HUMMEL said, "We're excited about this achievement and what this means for our company and the industry. At the organisation-level, we see tangible outcomes of having healthier and greener air as people take fewer sick leave and are more engaged at work. At the industry-level, we hope to bring our end-to-end solution to help organisations achieve healthier workplaces for their employees."

Cristina Gamboa, CEO, World Green Building Council, said, "We are delighted to see our partner, MANN+HUMMEL, commit to the creation and verification of a healthy working environment. Their leadership by example demonstrates the co-benefits of green buildings across the region and rest of world."

Yvonne Soh, Executive Director, Singapore Green Building Council said, "We are heartened to see this development by MANN+HUMMEL, which is in line with SGBC's programme on Better Places for People. We hope that these practical efforts by industry players in their own premises will lead the way in demonstrating how facilities management can be smarter, more productive and deliver better outcomes for occupiers."

Nitin Dani, Director of Projects, RESET, said, "RESET has been pioneering sensor-driven, performance-based standards in buildings for over five years now, and we are excited to have a first certified project in Singapore and in Southeast Asia, a city that we believe will be a key driver for leading the development of healthy, high performing buildings in the region."

Key Highlights:
First in Southeast Asia to obtain RESET™ certification.

Aligned with the changes in Singapore's BCA-HPB's GM HW: 2018, the new Green Mark for Healthier Workplaces Rating System, which calls for Indoor Air Quality ("IAQ") trend monitoring.

Differentiates from traditional certifications that only show building. performance at a certain point in time as opposed to in continuous operation.
---
About MANN+HUMMEL
MANN+HUMMEL is a leading global expert for filtration solutions. The company group, headquartered in Ludwigsburg, Germany, develops solutions for motor cars, industrial applications, clean air in interior spaces and the sustainable use of water. In 2017 the group achieved sales of about 3.9 billion euros worldwide with more than 20,000 employees at more than 80 locations. The products manufactured by the group include air cleaner systems, intake manifold systems, liquid filter systems, plastic components, filter media, cabin filters, industrial filters and membrane filters.
Further information about MANN+HUMMEL is available at
http://www.mann-hummel.com.

About OurAir
OurAir is a division of the MANN+HUMMEL group. By combining 77 years of filtration expertise with cutting-edge digital innovation, OurAir offers a portfolio of IoT devices such as air quality monitors, filters, as well as purification and ventilation systems. These devices are designed to be integrated seamlessly with the OurAir digital platform, thereby, creating intelligent solutions to KNOW, IMPROVE and MANAGE indoor air quality in real time. OurAir - Smarter Choices, Better Air.
Further information about OurAir is available at
http://www.ourair.mann-hummel.com
About the RESET™ Standard
RESET™ is the world's first sensor-based and performance-driven building standard and certification program. The RESET™ Standard is created with the aim of improving indoor environments and occupant health on a global scale. It combines the development of standards for projects, multi-parameter real-time monitors and cloud software to increase the visibility of building health data globally.