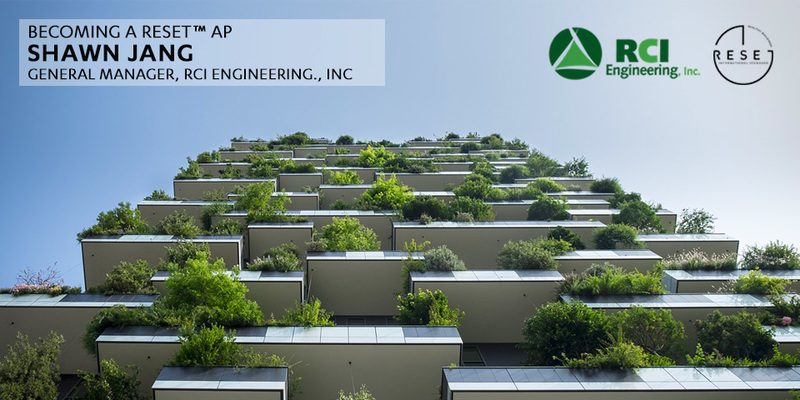 In this new series of articles RESET introduces pioneers from across the globe who have taken up the mission of creating healthier buildings. These individuals have not just decided to become AP's (Accredited Professionals) themselves, but have extended the standard to their employees, clients and partners, while also integrating it within their core business offerings.
Here's what Shawn Jang, General Manager, RCI Engineering, Inc, has to say.
What made you decide to pursue becoming a RESET Air Accredited Professional?
As the General Manager of RCI Engineering, Inc., an MEP design firm focusing on sustainability and creating systems that optimize energy efficiencies, minimize environmental impact and create healthy spaces, we believe that we have a responsibility not just to our clients and designs, but also to the people who occupy the spaces we help create, and the environment in which they reside.

RCI Engineering, Inc. is committed to incorporating and integrating the principles of sustainable design together with more feasible and applicable technologies in all our projects.

RESET Air is the only standard that quantifies our design and track results. With our global portfolio, becoming a RESET Air Accredited Professional (AP) allows us to innovate in all aspects of our mechanical, electrical and plumbing design.
What makes the RESET Air Standard different?
Our company has a diverse portfolio, including signature ground-up developments that include multifamily, office, mixed-use, retail and industrial. We have administered over one hundred LEED projects, achieved our first LEED v4 certified project in June 2015 and our first WELL certified project in March 2018.

What interests me in the RESET Building Standard is the requirement to provide real-time data on health and productivity to our clients. In most cases, after projects are flushed out, tested and certified, we are unable to guarantee to our clients that the air quality will not climb back up to hazardous levels, post-occupancy. This is where we need operational data and feedback.

RESET has set a much needed standard for air quality monitoring hardware and software, and verifies that the data sources being used are accurate. With its focus on performance, I believe RESET has a unique opportunity to positively impact our indoor spaces like no other building certification system.
---
About Shawn Jang

Shawn Jang, PE, USGBC Faculty, WELL Faculty, is the Asia Pacific General Manager of RCI Engineering, Inc. He has dedicated his entire career to bringing about a greener, healthier built environment. Shawn has provided leadership on numerous high-profile projects and programs. With a passion for healthy buildings, he has demonstrated expertise and extensive knowledge of human health and wellness in the built environment by spearheaded the First WELL certification in Taiwan. He has also worked on over 100 projects seeking LEED certification.
Shawn is an active volunteer and member of USGBC. He serves on the LEED Steering Committee and also participates as USGBC education Pro Reviewer. He regularly conducts numerous LEED and WELL trainings and workshops throughout Asia on sustainable building methods and educating professionals on green building practices and strategies. He is also an assistant professor in the architecture department at Feng Chia University teaching the first international LEED Lab.
As an expert in the both International WELL Building Institute's (IWBI) WELL Building Standard and USGBC's LEED building standard he will present at the 2018 Greenbuild China conference about Human Health and Wellbeing in Sustainable Building Rating Systems. Shawn has presented at Greenbuild 2014 and 2017 conferences and at the 2017 Greenbuild China inaugural conference. He will also be presenting in 2018 Greenbuild China.
Visit www.rci.green to find out more.