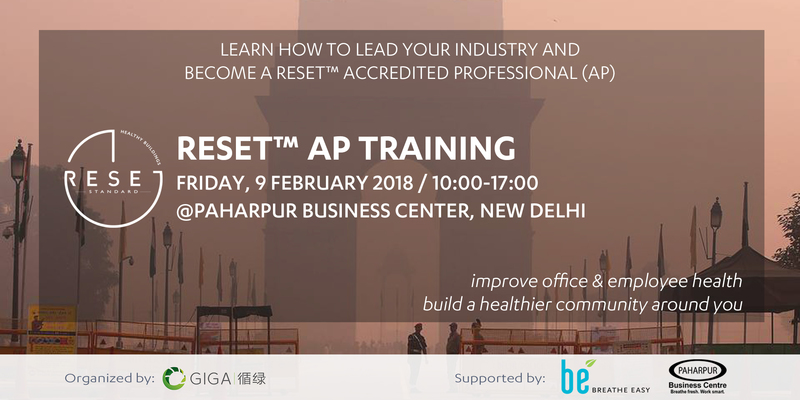 India has the worst air pollution in the world, beating China, Pakistan, Nepal and Bangladesh, according to Public Health Foundation of India (PHFI). According to another article published in the Asian Age in February 2013, air pollution is the 5th largest killer in India (link). And according to a 2014 World Health Organisation report, Delhi is the most polluted city in the world. Many other stats on air pollution and related health risks may be found at this link.
RESET, though, focuses on solutions, and on peoples' health within the built environment, which is where we spend over 90% of our time and which can be equally, if not more, polluted than outdoors.
The shift from design standards to operational standards - from design to operational performance - is changing the nature of the industry. Real-time monitoring is bringing a pulse to buildings, changing the business models of consultants, the relationship of building owners to tenants and of companies to employees. Past business models are giving way to new opportunities, and nowhere is this greater than in the field of healthy buildings.
Join us for our second RESET™ Accredited Professionals (AP) training in India and our first in New Delhi, a city known for it's smog and pollution, but also for being a hub of technology, innovation, healthcare and government policy, to learn more about how the building industry is changing, how organisations can improve their indoor air quality, and how different stakeholders can get involved to move towards solutions.

WHO SHOULD TAKE THIS TRAINING?
Building Owners and Managers: RESET's modular approach enables building owners and managers to integrate health and wellbeing in an affordable and scalable basis. RESET is the foundation stone for other building standards.
Equipment Solution Providers: RESET is a technology-based building standard focused on operational results. Learn how your equipment and services can contribute to the RESET Standard.
Consultants: RESET's modular, scalable and affordable approach enables consultants to engage with and retain more clients and projects, as well as creating new service models.

TRAINING TOPICS (1-day course)
Introduction to RESET™: the world's first 'smart' building certification program.
Embodied health impact of Materials: from chemicals of concerns to VOCs.
Building lungs: Understanding mechanical and biological filtration and air exchange.
Operational impact: Understanding the complexity of air. Dissecting results from monitoring.
The RESET™ process: Documenting and measuring for success.
Communicating the ROI and making the case to clients.

Note:
- Training is open to the public. Limited spaces.
- In case you are interested in participating in this training please signup at this link: https://www.eventbrite.com/e/resettm-accredited-professionals-ap-training-new-delhi-tickets-41933473147
- For all other questions and feedback, please write to us at: info@reset.build

--
About RESET™
RESET™ is an international project certification that prioritizes occupant health and environmental regeneration, starting with material chemistry and indoor air quality (IAQ). When people are healthy, so is the ecology and the economy. RESET™ prioritizes on-going results and long-term occupant health. Indoor air quality data is streamed to the cloud via multi-parameter monitors and accessed in real-time from any device. This enables positive feedback loops and helps build trust with staff and clients.
Since 2009, RESET™ has prioritized health as the most effective way of regenerating the ecology, society and economy.
More about RESET, existing RESET APs and IAQ mobile app download at www.reset.build

About Breathe Easy Labs
BreatheEasy is India's first full service Indoor Air Quality solution provider. They have been pioneers in the Indoor Air Quality (IAQ) space for the last 25 years having fixed the indoor air in their own building in Nehru Place, New Delhi and making it equivalent to being up in the mountains of Switzerland.
Visit www.breatheeasylabs.com to learn more.
About Paharpur Business Centre (PBC)
Located in the busy and bustling commercial hub of Nehru Place, Paharpur Business Centre offers mountain quality fresh air like that of Gulmarg in India or Davos in Switzerland. Under the aegis of Mr. Kamal Meattle, PBC's CEO and a leading industrialist, Paharpur Business centre offers fully furnished serviced offices, co-working space, training and meeting rooms to meet the diverse needs of customers. What sets PBC apart from the rest, though, is the exceptional air quality inside the building.
Read their full story here.