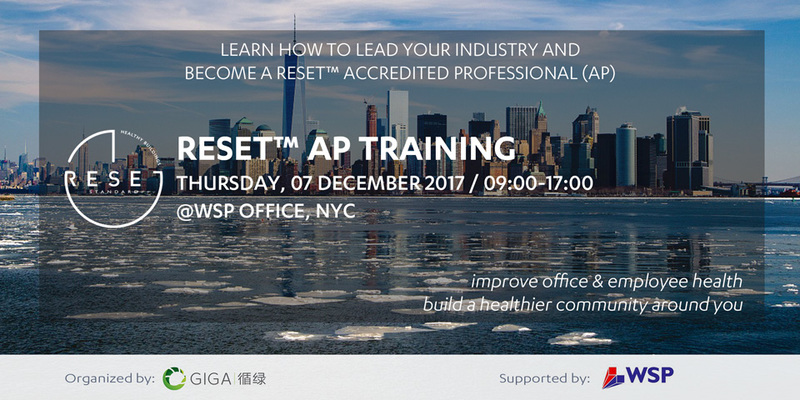 Join us for our first RESET™ Accredited Professionals (AP) training in New York, a city known for being at the forefront of technology and innovation, to learn more about how the building industry is changing, and how different stakeholders can get involved.
The shift from design standards to operational standards - from design to operational performance - is changing the nature of the industry. Real-time monitoring is bringing a pulse to buildings, changing the business models of consultants, the relationship of building owners to tenants and of companies to employees. Past business models are giving way to new opportunities, and nowhere is this greater than in the field of healthy buildings.
WHO SHOULD TAKE THIS TRAINING?
Building Owners and Managers: RESET's modular approach enables building owners and managers to integrate health and wellbeing in an affordable and scalable basis. RESET is the foundation stone for other building standards.
Equipment Solution Providers: RESET is a technology-based building standard focused on operational results. Learn how your equipment and services can contribute to the RESET Standard.
Consultants: RESET's modular, scalable and affordable approach enables consultants to engage with and retain more clients and projects, as well as creating new service models.

TRAINING TOPICS (1-day course)
Introduction to RESET™: the world's first 'smart' building certification program.
Embodied health impact of Materials: from chemicals of concerns to VOCs.
Building lungs: Understanding mechanical and biological filtration and air exchange.
Operational impact: Understanding the complexity of air. Dissecting results from monitoring.
The RESET™ process: Documenting and measuring for success.
Communicating the ROI and making the case to clients.

Note: Training is open to the public. Limited spaces. In case you are interested in participating in this training or would like to organise one in your office in future, please write to us at:info@reset.build

--
About RESET™
RESET™ is an international project certification that prioritizes occupant health and environmental regeneration, starting with material chemistry and indoor air quality (IAQ). When people are healthy, so is the ecology and the economy. RESET™ prioritizes on-going results and long-term occupant health. Indoor air quality data is streamed to the cloud via multi-parameter monitors and accessed in real-time from any device. This enables positive feedback loops and helps build trust with staff and clients.
Since 2009, RESET™ has prioritized health as the most effective way of regenerating the ecology, society and economy.
More about RESET, existing RESET APs and IAQ mobile app download at www.reset.build