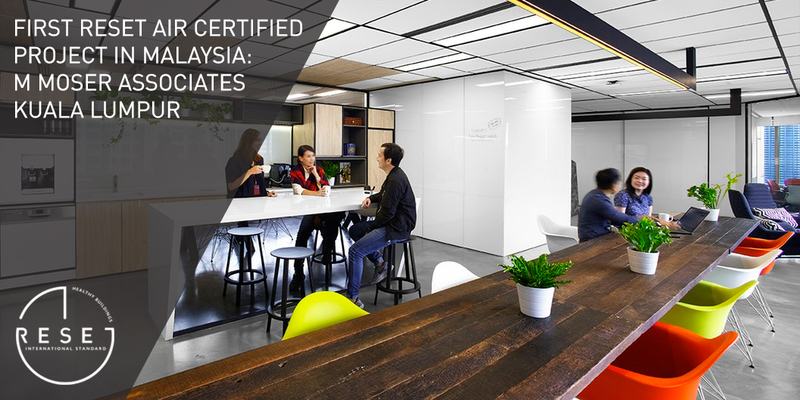 Congratulations M Moser Associates for being the first firm to attain RESET Air certification in the amazing city of Kuala Lumpur!
This achievement is one of an ever-expanding list of M Moser offices to attain RESET Certification and brings its total of certified offices to four, including London, Hong Kong and New York, spanning four countries and three continents – an accomplishment that is truly aspirational!
Ushering in the New Year, the M Moser Kuala Lumpur office earned its RESET Air Certification for Commercial Interiors just this January, making it among the first RESET certified project in 2020. And it couldn't have come at a more critical time, when the topic of health and well-being is on everyone's mind and is at the center of so many media headlines around the world.
It is the ongoing efforts of firms like M Moser Associates that help raise both awareness and the bar for proactive data monitoring and improved building design. With more education and robust approaches, we can start to shed much-needed light on innovative strategies that help keep all building occupants safe.
The Kuala Lumpur office, is an existing 5,080 square foot space, located on Suite 22A, Level 22,Vista Tower of The Intermark building along Jalan Tun Razak. Home to 32 full-time employees, the office floor plan is open and inviting and maximizes both daylight and views for the occupants.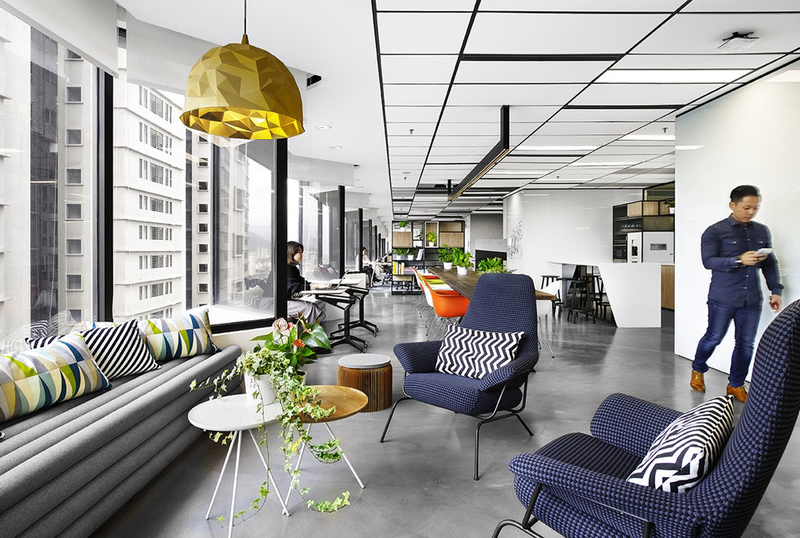 (Image Source: M Moser Associates)
When the RESET team recently interviewed Ernie Amzah, Sustainability Specialist at M Moser who leads workplace health and wellness design from the Kuala Lumpur office, she shared,
"Global air pollution is a huge health risk and Malaysia is significantly impacted by both domestic activities as well as those from our neighbors. Late last year, Kuala Lumpur endured a two-month period of haze during which the indoor air quality deteriorated significantly. Such incidents have resulted in growing concern among our clients and we want to be able to offer them best-in-class services and solutions. We decided to pursue RESET Air certification as a way to expand our company's capability and push the boundaries of sustainability and wellness in Malaysia."
As part of the design strategy, the Kuala Lumpur project team engaged building management and operations specialists to provide a holistic design approach. They upgraded their HVAC system for improved air filtration and to provide assurance for indoor air quality (IAQ) with intent to meet the required RESET Air thresholds.
"Open communication and information-sharing with building management and occupants was quite important for us. We gained tremendous insights from our building management operations maintenance teams and vice versa," Ernie adds.
Additionally, the M Moser Kula Lumpur office boasts a significant number of qualified RESET Air Accredited Professionals (APs). All trained in the RESET 2.0 Standard, these professionals are ready to respond to the growing demand for improved IAQ for all their clients.
RESET Air is the world's first sensor-based, performance-driven building certification program where indoor air quality (IAQ) is continuously monitored and measured in real-time.
To achieve RESET Air Certification for Commercial Interiors, a project must met the RESET criteria for Basic or High Performance during a minimum of three consecutive months. Air quality data is collected via indoor monitors and evaluated daily by the RESET Assessment Cloud. Air quality indicators and thresholds for Commercial Interiors includes:

To view more details about the project visit this link.
---
Project Info:
Name: M Moser Associates Kuala Lumpur

Type: Office Interior

Location: Suite 22A, Level 22, Vista Tower, The Intermark, 348, Jalan Tun Razak, Kuala Lumpur, Malaysia

Owner: M Moser Associates

Certified Area: 5,080 sq.ft (472 sq.m)

Certification Date: 1st January 2020

RESET Standard Applied: RESET Air Certification for Commercial Interior v2.0

RESET AP: Ernie Amzah, M Moser Associates

RESET Accredited Monitor: airsns NANO, DST

RESET Accredited Data Provider: Qlear, https://qlear.io/
---
About the RESET® Air Building Standard
RESET Air is the world's first sensor-based, performance-driven building standard and certification program where indoor air is measured and reported using continuous monitoring. The RESET Air Standard is comprised of a series of comprehensive standards outlining requirements specific to the performance, deployment, installation and maintenance of monitoring devices, data analysis calculation methodologies and protocols for data communication. In order to be recognized as RESET Air Certified, buildings and interiors must consistently maintain indoor air quality thresholds.
www.reset.build
About M Moser Associates
Since 1981, M Moser has specialized in creating high-performing workplace environments, corporate base buildings and campuses for people at work. A collective of 1,000 experts across 20 locations worldwide, M Moser has delivered more than 160 sustainable projects in 24 cities worldwide over the last 10 years, prioritizing holistic workplace solutions that enhance the health, wellbeing, and productivity of global brands and their employees.
www.mmoser.com