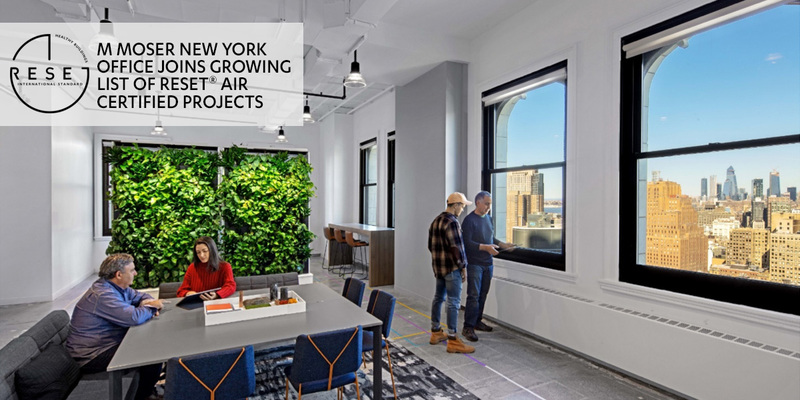 The M Moser New York office joins a growing list of RESET® Air certified projects for "Commercial Interior, v2.0" and is the third of M Moser Associates' spaces to achieve the accreditation.

As an industry leader helping clients achieve greener and healthier spaces, M Moser's mission is to create and deliver meaningful and transformative work environments that enhance the success of individuals and organizations.

With several other global offices pursuing the RESET Certification for healthy indoor air quality, the firm has been demonstrating its commitment to creating healthier buildings.
Christine Bruckner, RESET Fellow and Director at M Moser Associates shares, "M Moser is constantly pushing the boundaries of sustainability and wellness in our design of built environments. We believe that the building industry is experiencing a massive shift - firstly, in its rapid adoption of health and wellness concepts in the workplace, and second, in its move towards more performance-based, technologically-driven standards and tools. The RESET Standard helps us achieve this."
M Moser's New York office was able to achieve the RESET Air Certification for Commercial Interiors by consistently meeting the required IAQ targets. PM2.5 and TVOC met the high performance targets while CO2 met the basic performance target as measured by daily working hour averages across 3-months.

Additionally, temperature and relative humidity must be continuously monitored although no specific thresholds are prescribed.
RESET Air is the world's first sensor-based, performance-driven building certification program where indoor air quality (IAQ) is monitored and measured in real-time.
---
Project Info:
Client: M Moser New York Office
Type: Office Interior
Address: 24th Floor Woolworth Building, 233 Broadway, New York, USA.
Certified Area: 534 sq.m
Certification Date: June 2019
RESET Standard Applied: RESET Air Certification for Commercial Interior v2.0
RESET AP: Janis Ng, M Moser Associates
RESET Accredited Monitor: DST OPC 2000
RESET Accredited Data Provider: Qlear, https://qlear.io/
---
About RESET® Air
RESET Air is the world's first sensor-based, performance-driven building certification program where indoor air quality is monitored and measured in real-time. Buildings and/or spaces are required to consistently maintain healthy indoor air quality at all times, as defined by the Standard. RESET Air is comprised of comprehensive standards for hardware or sensor performance, installation, maintenance and data communication. RESET is developed and managed by GIGA, an independent third-party organization that combines building standards development with cloud software to promote the affordability and scale of healthy buildings.
About M Moser Associates
Since 1981, M Moser has specialized in creating high-performing workplace environments, corporate base buildings and campuses for people at work. A collective of 1,000 experts across 20 locations worldwide, M Moser has delivered more than 200 sustainable projects in cities worldwide over the last decade, prioritizing holistic workplace solutions that enhance the health, wellbeing, and productivity of global brands and their employees.