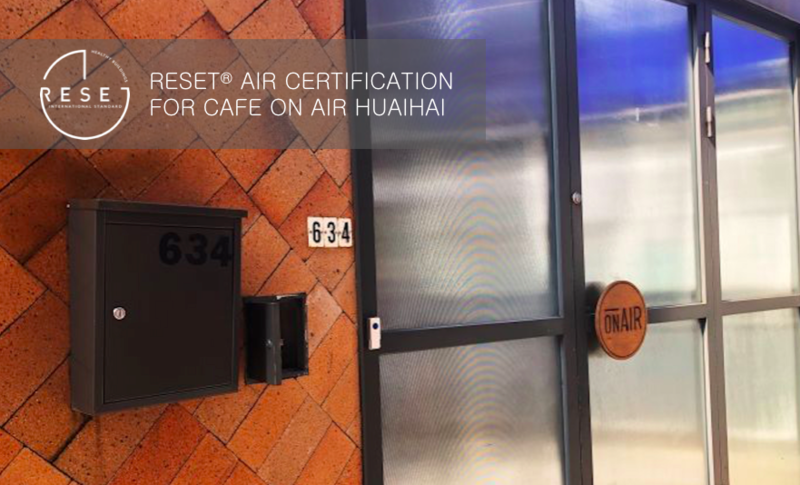 We are excited to announce that Cafe On Air - Huaihai is RESET Air Certified for Commercial Interiors. Often referred to as 'difficult to find', it is a very popular coffee shop with some of the best coffee in Shanghai!
From the name, On Air, you can probably already tell that this is a coffee shop that cares about 'Air'. In order to have healthy indoor air quality, Cafe On Air - Huaihai paid close attention to their material selection design phase. Using bricks for flooring and recycled wood, they limited TVOC emissions to near zero. The combat the Shanghai's unhealthy air quality on bad days, Cafe On Air installed air purification equipment to guarantee that PM2.5 is kept at a minimum.
In order for a project to achieve RESET Air Certification for Commercial Interiors, the project must demonstrate reliability and consistency by maintaining indoor air quality readings within the levels prescribed by the RESET Air Standard for three consecutive months, calculated using the RESET Air Methodology for Data Analysis. The air pollutants monitored include:
Particulate Matter (PM2.5) < 35 μg/m3
Total Volatile Organic Compounds (TVOC) < 500 μg/m3
Carbon Dioxide (CO2) < 1000 ppm
Cafe On Air - Huaihai began live monitoring indoor air quality in May 2018 and became certified in August 2018 after complying to the RESET Air Standard for Commercial Interiors for 3 consecutive months. To maintain certification, Cafe On Air will need to continue to demonstrate that good air quality can be maintained via their installed air filtration, ventilation equipment, choice of materials and furnishings, and even cleaning products, all of which influence indoor air quality.
Cafe On Air will to continue to monitor its indoor air quality moving forward and will communicate the data with staff and occupants on a daily basis according to requirements for transparency and promotion of social equity in the RESET Air Standards.
——
Project Info:
• Name: Cafe OnAir - Huaihai
• Type: Retail
• Location: No. 634 Huaihai Road, Huangpu District, Shanghai
• Certified Area: 156 sqm
• RESET Standard Applied: RESET Air Certification for Commercial Interiors v1.0
• RESET AP: Hui Yang, A00 Architecture
• RESET Accredited Monitor: DST OPC-2000
• RESET Accredited Data Provider: QLEAR
• Air Quality Solution Provider: PureLiving
• Interior Design: Sacha Silvia, A00 Architecture

About RESET® Air
RESET Air is the world's first sensor-based, performance-driven building certification program where indoor air quality is monitored and measured in real-time. Buildings and/or spaces are required to consistently maintain healthy indoor air quality at all times, as defined by the Standard. RESET™ Air is comprised of comprehensive standards for hardware or sensor performance, installation, maintenance and data communication.
www.reset.build/