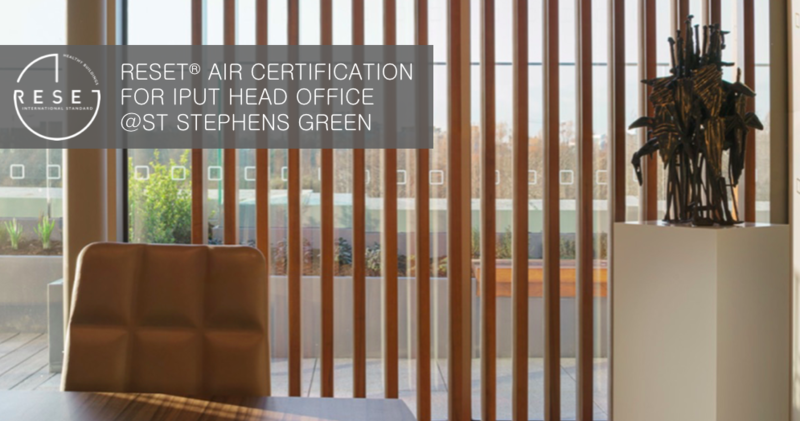 'Positive tenant relationships and high-quality service is core to our success as a business,' IPUT have found a clear connection between the quality of their relationships and their business performance.
And to support the relationships that they have with their tenants, IPUT has made health and wellbeing a core focus area for their approach to Responsible Investment, and it forms a key part of their marketing messaging.
In IPUT's 2018 Sustainability Report, a section dedicated to Tenant Engagement & Wellbeing highlighted that in 2018 IPUT's new headquarters become the first WELL Certified Gold office in Dublin and only the second in Ireland. To continue their commitment to ensuring this building met occupiers needs and operated efficiently to support wellbeing IPUT invested in RESET accredited air quality monitors during fit-out.

In early 2018, IPUT moved into a new office space on 47-49 St. Stephen's Green in downtown Dublin. IPUT engaged with Carbon Credentials to support air quality monitoring as a part of their Well Standard Gold certification. It was identified at that time that RESET Air Certification for Commercial Interiors could also be brought into the same process.

"An insightful data-driven approach underpins everything we do. We help our clients improve energy performance, leverage data and ensure compliance" states Cian Duggan, Chief Innovation Officer at Carbon Credentials.

RESET Air is the world's first sensor-based, performance-driven building certification program where indoor air quality (IAQ) is continuously monitored and measured against international recommendations.
To achieve RESET Air Commercial Interior certification, IPUT was required to consistently ensure that their IAQ, as calculated by the RESET Air Methodology for Data Analysis, met the Basic Performance criteria for 3 consecutive months:

​​​​​​​
Additionally, temperature and relative humidity must be continuously monitored as both are instrumental in understanding air quality and go hand-in-hand with energy consumption metrics.

Projects seeking RESET Air certification, must maintain threshold levels over a three-month period, called the Data Audit phase. This phase is critical for projects to be able to review and assess the mechanical system, air filtration design and ventilation equipment.

For 47-49 St. Stephen's Green, the Data Audit phase began during Winter 2018. At the time, there was a specific challenge with carbon dioxide in one room, requiring alteration to plant runtimes and diffuser settings. Additionally, there was an identified VOC issue, and although minor, it made it hard to pinpoint and resolve. Improved engagement with IPUT staff was required in order to remedy the VOC spikes. This showcases the success that is achieved through the collaborative processes that RESET Air certification requires.

By engaging with staff and walking through the issues surrounding IAQ, IPUT was able to achieve certification on the first of May 2019, making this site the first RESET Certified Commercial Interiors in Ireland and second in Europe.

"The RESET data gave us the capability to monitor TVOCs and identify the source of spikes in VOCs. Once identified Carbon Credentials made recommendations to the IPUT team, who put the recommendations into action and we immediately saw a decrease in VOC spikes for this area and we were able to proceed to certification. The RESET analysis has since helped us tune the energy performance of the building without reducing the quality of tenant experience." Sam Carson, Director of Sustainability at Carbon Credentials.

Moving forward, the project will continue to monitor air quality and will communicate the data on an ongoing basis in order to promote transparency and social equity amongst building occupants as required by the RESET Air Standard.
And in case you missed it, here is more coverage of IPUT's great accomplishments and the benefits of responsible IAQ monitoring as so eloquently written by Mona Holtkötter and published in Ireland's Building Services News magazine last February.
https://issuu.com/patlehane/docs/bsnews_jan_feb_2019_web_issue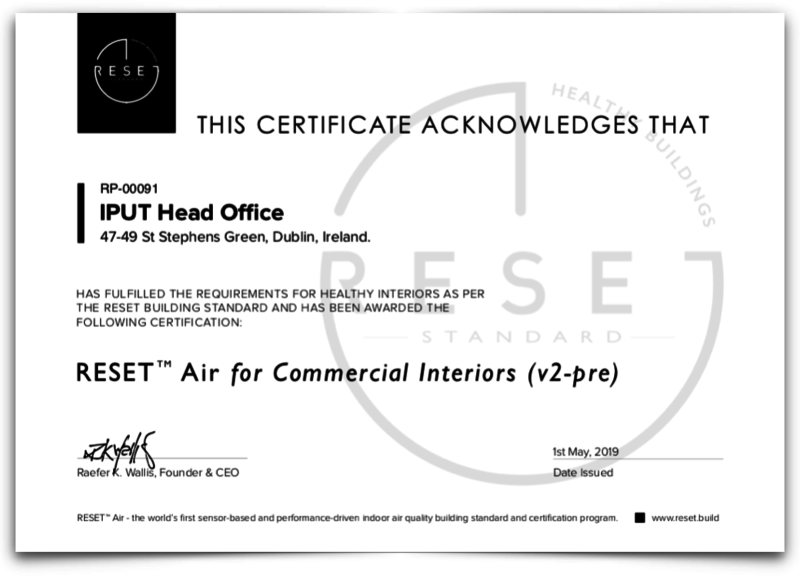 Project Information:
Name: IPUT Head Office
Type: Office Interiors
Location: 47-49 St Stephen's Green, Dublin, Ireland.
Owner: IPUT
Certified Area: 441 m2
RESET Standard Applied: RESET Air Certification for Commercial Interiors v2.0-Pre
RESET Air AP: Sam Carson, Carbon Credentials
RESET Accredited Monitor: Tongdy MSD
RESET Accredited Data Provider: Carbon Credentials

About IPUT
IPUT is the longest established commercial property fund in Ireland and is the largest owner of office buildings in Dublin. The IPUT portfolio comprises 470,000 sqm (5 million sq.ft) of institutional grade, prime commercial real-estate and includes large scale offices, retail and logistics assets with a focus on offices in Dublin's core central business district. Our team has multi-cycle experience and seeks to maximize shareholder returns through targeted exposure to added value projects, underpinned by the Fund's core income generating properties.
iput.com
About Carbon Credentials
Carbon Credentials help create environments that people love working and staying in, that use less carbon, save energy and optimise the wellbeing of occupiers. We are the experts in setting ambitious sustainability strategies, asset optimisation and wellbeing, helping global organisations increase competitiveness and reduce costs. We help our clients lead, supporting them through a combination of technology, data intelligence and people engagement to deliver impact and results.
About the RESET® Air Building Standard
RESET Air is the world's first sensor-based, performance-driven building certification program where indoor air quality is monitored, measured and reported using continuous monitoring. Buildings and/or spaces are required to consistently maintain healthy indoor air quality at all times, as defined by the Standard. RESET Air is comprised of comprehensive standards for hardware, sensor performance, installation, maintenance and data communication.
www.reset.build