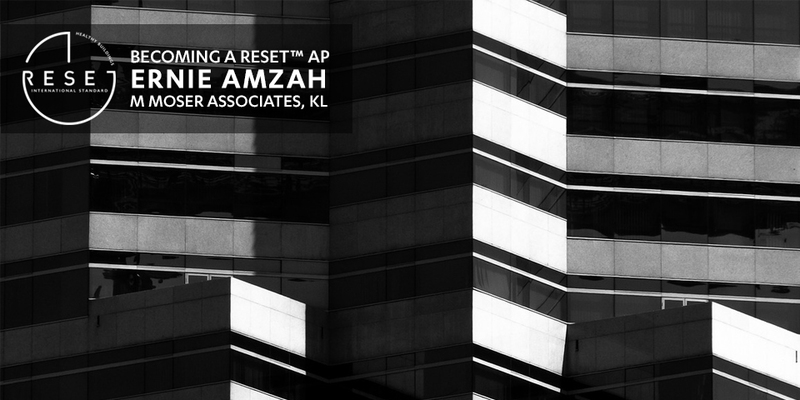 In these new series of articles, 'Becoming a RESET AP', RESET introduces pioneers from across the globe who have taken up the mission of creating healthier buildings. These individuals have not just decided to become AP's (or Accredited Professionals) themselves, but have also extended the certification to their employees, clients and partners, but also integrated it in their business offerings.
Here's what Ernie Amzah, Sustainability Specialist, M Moser Associates, has to say.
What made you decide to pursue becoming a RESET Air Accredited Professional?
The opportunity came in when one of our directors, Dr. Christine Bruckner, visited the KL office earlier this year. During her visit she mentioned how pursuing a RESET accreditation would be beneficial from a professional standpoint, as well as the impact of indoor environmental quality on our living environments. Dr. Bruckner further explained how the RESET Standard can enable us to complement our capabilities and knowledge in sustainability with health and wellness, which would enable us to deliver healthier workplaces to our clients.
I knew I had to pursue this path for so many obvious reasons but on a personal note, I want to contribute better towards addressing one of the most important health risk of our times i.e. air pollution, while significantly reducing our buildings' impact on our environment.
What makes the RESET Air Standard different?
The RESET Air Standard is user-friendly, straightforward, and cost effective, without lengthy requirements. I appreciate that the Standard focuses on performance, and how one can immediately review the IAQ results which allows us to 'fix' existing problems before too late.
By having indoor and/or outdoor monitors installed within buildings, we are able to get real- time measurements, understand our indoor and outdoor environments better, and most importantly, are able to take corrective action right away. The fact that it is an 'ongoing' certification also means that spaces are required to perform well right through their lifecycle, rather than simply during the initial stages of design or move-in.
---
About Ernie Amzah

Ernie has been involved with M Moser Associates out of the Kuala Lumpur office for over 10 years now, first as a Designer and later, as a Sustainability Specialist. She holds a Bachelor of Arts in Interior Architecture & Design from Nottingham Trent University. She is highly skilled in interpreting working drawings and delivering high impact presentations. She has collaborated extensively with designers and project managers, while assisting M Moser's Sustainability team in their green projects, including documentation and delivery.
In addition to being a RESET AP, Ernie is also a LEED Green Associate. With vast knowledge on local, sustainable materials and air quality, she is actively involved in environmentally-related awareness campaigns within the office, as well as outside through volunteering her time with several local NGO's.
About M Moser Associates
M Moser Associates has specialized in the design and delivery of workplace environments since 1981, with clients from the corporate, private healthcare, and education sectors. Made up of almost 1,000 staff across 20 locations on 3 continents, the company provides a holistic approach to physical and digital work environments of all scales, integrating expertise in workplace strategy, architecture, interior design and digital infrastructure, together with sustainability and wellness. This enables M Moser to be at the forefront in offering integrated and unique project solutions of any size to its clients from a single point of responsibility - from concept to construction - with precise control over cost, time, and quality.
For more info visit www.mmoser.com