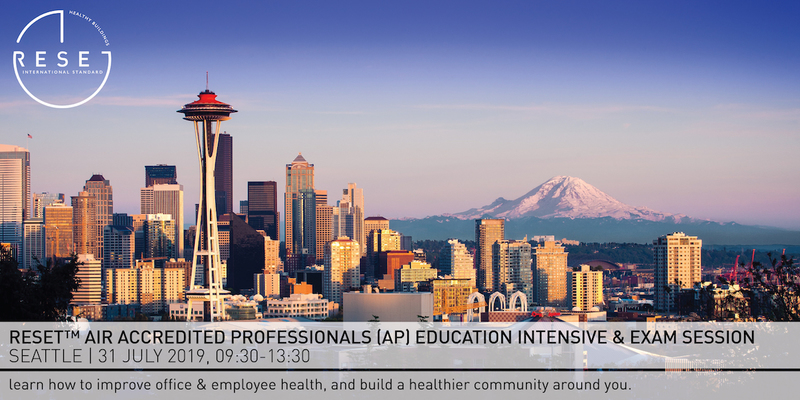 Taught by a RESET Air Professional Trainer, qualified attendees will receive a complete and thorough review of the technical aspects of the Standards as well as review the steps required for monitor calculations and proper deployment.
Upon completion of the session, registrants will be able to:
evaluate and assess building typologies according to the RESET Air Standards
understand the requirements for proper monitor deployment and installation
calculate total air volume according to the RESET Air Standard for CS
present holistic approaches in order to help project teams attain RESET Air Certification
Immediately following the Education Intensive, registrants are eligible to take the RESET Air Accredited Professional practical exam which will verify their comprehension and deployment calculation capabilities. Two hours are allotted for the exam and must be completed on-site.
PREREQUISITES:
In order to be allowed entrance into the Education Intensive and be eligible to take the practical exam, registrants are required to have completed viewing all of the RESET Air Accredited Professional webinar modules and completed the online knowledge exam.
The webinar modules are free of charge and are available for viewing anytime. They can be found here: https://aptraining.reset.build/
It is mandatory to take the online knowledge exam after completion of module viewing, and before attending the Education Intensive session. Online exam link may be found at this link.
WHO SHOULD BECOME A RESET Air ACCREDITED PROFESSIONAL (AP)?
• Building Owners and Managers: RESET Air's modular approach enables building owners and managers to integrate improved IAQ and occupant wellbeing in an affordable and scalable way. RESET Air helps to build a foundation for other building standards.
• Equipment Manufactures, Engineers and Solution Providers: RESET Air is a sensor-based and performance-driven, indoor air quality building standard and certification program focused on operational results. Learn how your equipment and services can contribute to the RESET Air Standard.
• Professional Consultants: RESET Air's modular, scalable and affordable approach enables consultants to engage with and retain more clients and projects, as well as create new service models.
SCHEDULE:
09:30-10:00 RESET Brief Introduction
10:00-11:30 RESET Air Commercial Interior Standard & Practicum Exam
11:30-12:15 Lunch
12:15-13:30 RESET Air Core & Shell Standard & Practicum Exam
DATE: Wednesday, 31st July 2019 | 09:30-13:30
LOCATION: Säzän Environmental Services, 600 Stewart St., Suite 1400 Seattle, Washington 98101
REGISTRATION / FEES:
Session Fee: 515USD, including taxes
10% discount for nonprofits, educational institutes, students, and/or groups of 3 or more from the same company.
Light lunch, and coffee/tea will be served.
To participate in the session, please send us an email at info@reset.build
---
About RESET
RESET™ Air is the world's first sensor-based, performance-driven building certification program where indoor air quality is monitored and measured in real-time. Buildings and/or spaces are required to consistently maintain healthy indoor air quality at all times, as defined by the Standard. RESET™ Air is comprised of comprehensive standards for hardware or sensor performance, installation, maintenance and data communication.
About Säzän
Säzän Group is more than a mechanical, electrical, and plumbing engineering firm. They are systems engineering design leaders, asset management experts, and information technology innovators. With experienced, multi-disciplined employees in Seattle, Bremerton, and Portland, the company continuously evolves and adapts to bring exceptional value to their clients and community.
More info about Säzän at this link.
About the Trainer

Anjanette is Senior Fellow, co-author and Director of Standards Development for RESET™, spearheading the world's first certification program to utilize continuous monitoring to measure the health performance of the built environment. Anjanette was consultant for the first certified RESET Air projects in the world and has been on the forefront of research and critical analysis of the health and well-being of building occupants for the better part of her career.
With 17+ years of experience in Architecture and Design, Anjanette has specialized skills in regenerative design technologies and has advised on single and multi-attribute building and material certification projects across the globe. Working with clients from China to New Zealand she has analyzed materials and manufacturing processes to provide solutions for some of today's most challenged sectors.
For a detailed bio of Anjanette visit this link.