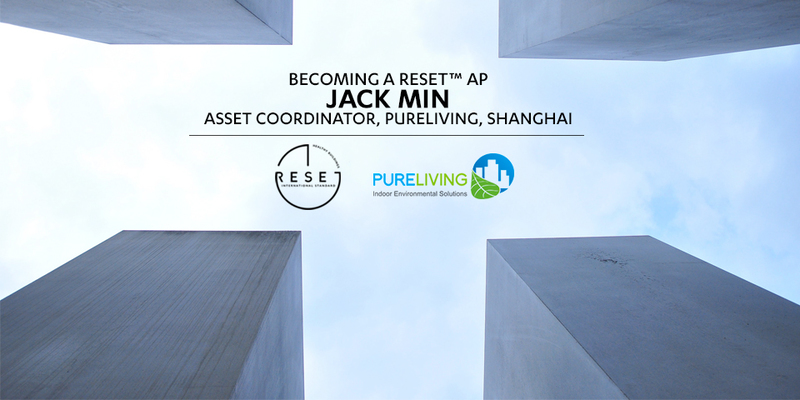 In this series of articles, 'Becoming a RESET AP', RESET introduces pioneers from across the globe who have taken up the mission of creating healthier buildings. These individuals have not just decided to become AP's (or Accredited Professionals) themselves, but have also extended the certification to their employees, clients and partners, but also integrated it in their business offerings.
Here's what Jack Min, Asset Coordinator at PureLiving, has to say.
What made you decide to pursue becoming a RESET Air Accredited Professional?
Working at PureLiving, China's leading air quality service provider, the most common question our Chinese clients ask us is, "How would you prove that your monitor is accurate, and what makes your monitoring system different from other competitors?" RESET certification not only provides a scientific classification for indoor air quality (IAQ) monitors in the market and recommends qualified products, but also sets up detailed thresholds to evaluate IAQ levels and relevant health impact. The RESET standard strongly complements PureLiving's professional values and services in the air quality space, and is being gradually adopted by more and more of our mainstream customers.
As such it was important for me to be a certified RESET Air AP so that I am fully aware of the certification process and am better able to consult clients pursuing RESET certification, while also making them feel comfortable that I am accredited to do so.
What makes the RESET Air Standard different?
In other Green Building or health standards, long-term IAQ monitoring is normally treated as a supplement of lab sampling tests and only worth several credits in the entire certification process. Basically, despite being a huge contributor to employees' health and productivity, IAQ has not been given the priority it deserves. The RESET Standard perfectly fills this gap and helps set the benchmark for more reliable IAQ performance – be it for monitors, for spaces, or for maintenance. It has become a necessary tool not just for tenants to evaluate their indoor environments, but also helps facility management teams to differentiate their services.
---
About Jack Min

Jack is the Environmental Monitoring Manager of PureLiving's Monitoring Department, a role which involves analysing all the various air quality monitors on the market and recommending the best ones to suit different clients. Jack has a background in professional environment, business and economics, and understands the healthcare and social responsibility needs of both private and commercial clients. He is a graduate from the Faculty of Environment at the University of Waterloo.
To connect with Jack Min visit this link.