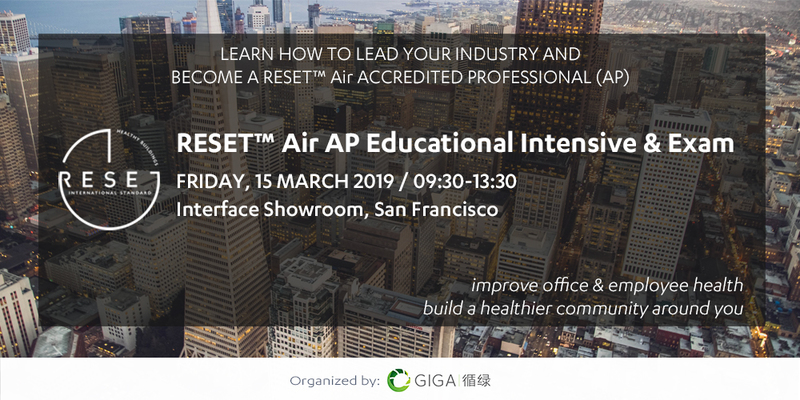 RESET Air Accredited Professionals are quickly becoming among the industry's most sought-after professionals, and for good reason. RESET Air is the world's first sensor-based and performance-driven, indoor air quality (IAQ) building standard and certification program and outlines IAQ performance targets focusing on the wellbeing of building occupants. By taking a non-prescriptive approach that evaluates projects based on their operational performance, RESET Air encourages project teams to think both dynamically and creatively to solve complex IAQ challenges now prevalent in countries and communities throughout the world.
To help you become a part of this market transformation and be recognized as a leader in the field of IAQ, this four-hour Education Intensive session, will cover in detail, both the RESET Air for Commercial Interiors Standard and the RESET Air for Core & Shell Standard.
Taught by a RESET Air Professional Trainer, qualified attendees will receive a complete and thorough review of the technical aspects of the Standards as well as review the steps required for monitor calculations and proper deployment.
Upon completion of the session, registrants will be able to:
evaluate and assess building typologies according to the RESET Air Standards

understand the requirements for proper monitor deployment and installation

calculate total air volume according to the RESET Air Standard for CS

present holistic approaches in order to help project teams attain RESET Air Certification
Immediately following the Education Intensive, registrants are eligible to take the RESET Air Accredited Professional practical exam which will verify their comprehension and deployment calculation capabilities. Two hours are allotted for the exam and must be completed on-site.
PREREQUISITES:
In order to be allowed entrance into the Education Intensive and be eligible to take the practical exam, registrants are required to have completed viewing all of the RESET Air Accredited Professional webinar modules and completed the online knowledge exam.
The webinar modules are free of charge and are available for viewing anytime.
They can be found here: https://aptraining.reset.build/
It is mandatory to take the online knowledge exam after completion of module viewing, and before attending the Education Intensive session.
Online exam link may be found at this link.
WHO SHOULD BECOME A RESET Air ACCREDITED PROFESSIONAL (AP)?
• Building Owners and Managers: RESET Air's modular approach enables building owners and managers to integrate improved IAQ and occupant wellbeing in an affordable and scalable way. RESET Air helps to build a foundation for other building standards.
• Equipment Manufactures, Engineers and Solution Providers: RESET Air is a sensor-based and performance-driven, indoor air quality building standard and certification program focused on operational results. Learn how your equipment and services can contribute to the RESET Air Standard.
• Professional Consultants: RESET Air's modular, scalable and affordable approach enables consultants to engage with and retain more clients and projects, as well as create new service models.
SCHEDULE:
09:30-10:00 Signup

10:00-10:30 RESET Brief Intro

10:30-12:15 RESET Air Commercial Interior Standard & Practicum Exam

12:15-12:45 Lunch

12:45-14.00 RESET Air Core & Shell Standard & Practicum Exam
---
DATE: Friday, 15th March 2019 | 09:30-13:30
LOCATION: Interface Showroom, 457 Pacific Avenue, San Francisco, CA
REGISTRATION / FEES:
Educational Intensive and Exam: 515USD, including taxes

Light lunch, and coffee/tea will be served.

To participate in the session, please register at this link.